Manhattan Indoor Air Quality Testing
888-250-6653
Call us today for a free consultation.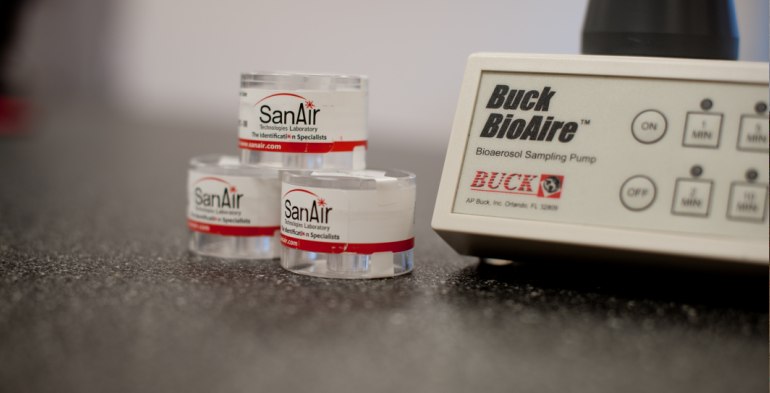 Many people in Manhattan live and work in high-rise buildings with limited outdoor exposure. As a result, indoor air is important for maintaining health and comfort. That's why it's important to test the indoor air quality (IAQ) to make sure the air people are breathing is safe and free from pollutants and allergens.
Common IAQ Problems in Manhattan Buildings
High levels of indoor pollutants: Some indoor pollutants, like VOCs, dust, and particles, can cause "Sick Building Syndrome". These pollutants can build up over time and be dangerous for people with respiratory issues, allergies, or other health conditions.
Poor ventilation systems: Many buildings have old or poorly working ventilation systems. This can make indoor pollutants build up and make it difficult to control the temperature, making it uncomfortable for people.
Moisture and mold growth: Moisture and mold can be big problems. Too much humidity, leaks, and poor ventilation can cause mold to grow.
Pest infestations: Pests like mice and rats can also hurt indoor air quality. Pests can carry diseases and allergens, and their waste can give off harmful gases.
IAQ Testing in New York City
New York City has regulations and standards to ensure safe air quality. H&H Environmental and Consulting has the expertise to provide professional Indoor Air Quality (IAQ) Assessments. We test and treat buildings with contaminated air or poor indoor air quality in offices and commercial buildings.
Benefits of IAQ Testing in Manhattan Offices and Buildings
An IAQ test identifies potential health hazards, including pollutants such as allergens, volatile organic compounds (VOCs), and other harmful substances. Mitigating these problems results in a safer and healthier environment for building occupants.
There are also financial benefits for building managers and owners. Regular air tests can help avoid potential liability and insurance claims from sick or injured occupants. Additionally, with clean indoor air, building owners can more easily attract and retain tenants, leading to increased property value and rental income.
Fresh air and reduced levels of pollutants contribute to greater satisfaction and productivity. Regular testing can make sure the air stays clean, so people can enjoy a safe environment.
Air testing is crucial to ensuring the health and safety of building occupants. Manhattan building owners can both preserve the health and safety of their occupants while protecting their financial interests.
H&H Environmental provides the following services:
Indoor Air Quality testing for mold and other contaminants.
Identify Indoor Air Pollution (IAP) and other environmental risk factors.
Recommendation of specific solutions to alleviate the issues.
Remediation services to remove mold or bacterial contamination.
Final air sampling to insure that the building environment is healthy and the air is clean.
Suspect a problem? We provide air quality testing in Manhattan, including the Upper East Side, Murray Hill, Kips Bay, Harlem, Washington Heights, Inwood, and the Financial District.
We accept all major credit cards. Call us today at 888-250-6653 for a free consultation.