Indoor Air Quality Testing in Soho Manhattan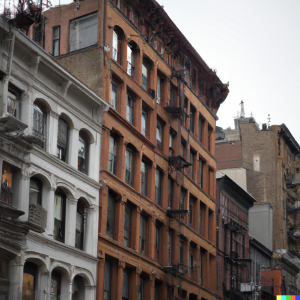 Soho Manhattan is known for its trendy boutiques, art galleries, and fine dining restaurants. It is a vibrant and bustling neighborhood that attracts residents and tourists alike. With so many people frequenting the area, it's important to pay attention to the quality of the air they breathe.
Indoor air quality testing is the process of analyzing the air in a building to determine the levels of pollutants and contaminants present. It is an important step in maintaining a healthy indoor environment, particularly in areas like Soho Manhattan where the population density is high and pollution from traffic and industry can affect air quality.
Why test indoor air quality in Soho Manhattan?
Indoor air quality testing is important in any area where people spend a significant amount of time indoors. In Soho Manhattan, the need for testing is even greater due to the high levels of traffic and industrial activity in the area.
Traffic is a major contributor to air pollution, and Soho Manhattan is no exception. With its narrow streets and heavy traffic flow, the neighborhood is prone to high levels of exhaust fumes and other pollutants. Industrial activity, particularly in the form of commercial kitchens and restaurants, can also contribute to poor air quality if proper ventilation systems are not in place.
In addition, Soho Manhattan is a densely populated area, with many residents and visitors spending a significant amount of time indoors. Poor indoor air quality can have a significant impact on the health of these individuals, particularly those with respiratory conditions such as asthma or allergies.
What does indoor air quality testing involve?
Indoor air quality testing involves the collection and analysis of air samples from a building. The samples are analyzed for a variety of pollutants and contaminants, including:
Particulate matter: This refers to small particles in the air that can be inhaled, such as dust, pollen, and mold spores.
Volatile organic compounds (VOCs): These are chemicals that can be released from products such as cleaning agents, paint, and building materials.
Carbon monoxide: This is a colorless and odorless gas that can be produced by faulty heating systems or other combustion sources.
Radon: This is a naturally occurring gas that can seep into buildings from the ground.
Formaldehyde: This is a common indoor air pollutant that can be released from building materials, furniture, and other products.
In addition to collecting air samples, indoor air quality testing may also involve a visual inspection of the building's ventilation systems and other potential sources of pollution.
Professional air quality testers, H&H Environmental, can perform comprehensive indoor air quality testing to identify any pollutants and contaminants that may be present in a building. They use state-of-the-art equipment to collect air samples and analyze the data to provide accurate and reliable results.
Benefits of indoor air quality testing
Indoor air quality testing has several benefits, including:
Identifying potential health hazards: Indoor air quality testing can help identify potential health hazards such as allergens, pollutants, and chemicals that may be present in the air.
Reducing the risk of respiratory problems: Poor indoor air quality can contribute to respiratory problems such as asthma and allergies. Identifying and addressing indoor air quality issues can reduce the risk of these problems.
Improving overall health: Improved indoor air quality can lead to improved overall health and well-being.
Reducing energy costs: Indoor air quality testing can identify areas where energy is being wasted due to inefficient ventilation or heating and cooling systems. Addressing these issues can result in lower energy costs.
Increasing property value: Improved indoor air quality can increase the value of a property, particularly in areas like Soho Manhattan where air quality is a concern for many residents.