Importance of Indoor Air Quality Testing : Greenwich Village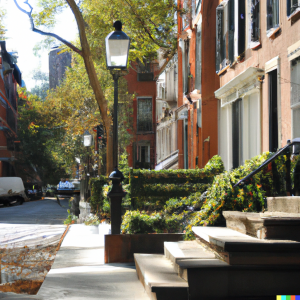 Indoor air quality (IAQ) refers to the air quality within and around buildings and structures, especially as it relates to the health and comfort of building occupants. Indoor air quality testing is the process of evaluating the air quality inside a building or structure to determine if it is safe and healthy for occupants. In recent years, IAQ testing has become increasingly important in Greenwich Village, a historic neighborhood in Lower Manhattan known for its cultural significance and vibrant community. H&H Environmental are experts in conducting indoor air quality tests.
Greenwich Village has a rich history as a hub for artistic and intellectual creativity. It was a center of the bohemian lifestyle in the 1950s and 1960s, and today it is a popular tourist destination and home to many artists, writers, and musicians. However, this densely populated neighborhood also has a unique set of challenges when it comes to indoor air quality. Many of the buildings in the area are old and were not designed with modern building codes and ventilation standards in mind. This, combined with the high levels of traffic and air pollution in Manhattan, can result in poor indoor air quality that can impact the health and well-being of residents.
Poor indoor air quality can result from a variety of sources, including mold, radon, carbon monoxide, and volatile organic compounds (VOCs) from paints, cleaning products, and building materials. These contaminants can cause a range of health problems, including headaches, fatigue, allergies, and respiratory issues. In some cases, exposure to high levels of indoor air pollution can even lead to serious long-term health problems such as cancer or cardiovascular disease.
To protect residents from the harmful effects of poor indoor air quality, it is essential that building owners and occupants in Greenwich Village have their indoor air quality tested on a regular basis. Testing can help identify any potential health risks and provide information on how to improve air quality.
Indoor air quality testing typically involves collecting air samples and analyzing them in a laboratory to determine the levels of various contaminants. The results of the test can then be used to assess the overall air quality and identify any areas of concern. For example, if high levels of mold are found, the building owner can take steps to address the issue, such as fixing leaky pipes, improving ventilation, or removing contaminated materials. Similarly, if high levels of radon or carbon monoxide are found, the owner can take steps to prevent these gases from entering the building and putting residents at risk.
In addition to protecting the health of building occupants, improving indoor air quality can also have other benefits. For example, improving air quality can help increase energy efficiency and reduce costs by reducing the need for heating and cooling systems. By reducing the levels of indoor air pollution, building occupants may also be able to enjoy a more comfortable living environment, free from the discomfort and irritation caused by poor air quality.
There are several steps that building owners and occupants in Greenwich Village can take to improve indoor air quality, regardless of whether they have had an indoor air quality test performed. Some simple steps include:
Ventilating the building regularly: By opening windows and using fans, building occupants can help to improve air quality by circulating fresh air into the building.
Using green cleaning products: Many cleaning products contain harmful chemicals that can contribute to poor indoor air quality. By using green cleaning products, building owners and occupants can help to reduce exposure to these harmful chemicals.
Maintaining indoor plants: Indoor plants have been shown to improve indoor air quality by removing harmful chemicals and pollutants from the air.
Replacing old HVAC systems: Old heating and cooling systems can be a major source of indoor air pollution. By replacing these systems with new, energy-efficient models, building owners can help to reduce