Preventing Mold In Your Closet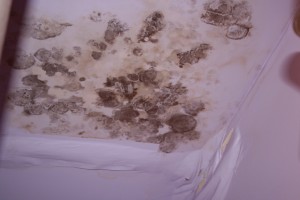 Mold is a health hazard that can increase allergies and airborne pollutants. Many homeowners find that their closets become a source of mold and mildew. Here are some reasons why mold may grow in your closet, along with what you can do to prevent it.
Closets often provide the cool temperatures and moist atmosphere that mold needs flourish. Moisture can come from many sources. Moisture given off by new building materials can be a culprit. Wet or damp clothing can also be a water source.
If the closet is on the first floor, the cause may be a too-damp basement. Insulating the closet floor from the basement side can help. The vapor barrier should be against the closet floor.
Tips to prevent closet mold
– Be sure any clothes, linens or towels are completely clean and dry before storing them.
-Leave space around stored clothing allows more air to circulate. Do not pack clothes too tightly.
-Leave the closet door open when possible. A louvered door provides greater air circulation.
-Wire shelving provides greater air circulation than solid shelves.
-Keep your items off the floor to keep moisture from appearing underneath them. Hang the clothes or keep them in boxes.
-Air out your closets occasionally by clearing them out and washing any clothing.
– Use a moisture-absorbing product like DampRid. Moisture is absorbed from the air and turns the crystals inside the product into water. Check it regularly, and replace it when the crystals are all liquid.
-A dehumidifier in the room will pull excess moisture from the air. Consider installing a whole-house system if you have a problem with humidity throughout your home.
If you do find mold in your closet, wash the clothing to help remove any  mold spores. Address any moisture sources you find. Mildew, caused by mold, can grow on fabric, leather or paper. Mold should be removed as soon as possible. The severity of the problem will determine how it needs to be removed.
Mold not only damages your belongings, but it can become a hazard to your family's health. If you have major or reoccurring problem, contact a mold professional.
H&H Environmental Construction and Consulting provides professional  mold testing and removal services for Connecticut, Massachusetts, New York, New Jersey and Pennsylvania. Call us at 888-250-6653 if you suspect a  problem anywhere in your home!