Carpet Mold Removal: Get Rid of the Mold or the Carpet?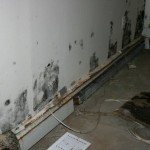 Carpets, particularly those made of organic materials, can provide a great environment for mold contamination. When moisture or water accumulate within and under a carpet without the opportunity to completely dry, carpet mold can form.
It is important to remove mold growing in or on a carpet as quickly and thoroughly as possible.
If the carpet mold infestation is not severe, you might be possible to remove the mold yourself. A good carpet cleaner can suck up the excess carpet moisture. There are carpet cleaning solutions designed to remove allergens from the carpet fibers. For smaller carpets or rugs, a cleaning solution of vinegar or alcohol, detergent and warm water can be used to remove the mold. This works best for small areas where the infestation is limited.
For serious contamination, where there has been flooding or the water has spread to larger areas, the only effective way to eliminate the carpet mold is to rip out the carpet and throw it away. While replacing carpet can be expensive, it is nowhere as expensive as allowing mold contamination to fester.
When removing moldy carpet, be sure that the floor underneath is allowed to completely dry. It should be vacuumed to remove loose mold spores. If the floor base is made of plywood, it should be painted and sealed with an oil-based paint before new carpet is put down.
Left untreated, carpet mold can become a health hazard and spread to other areas of the home. In that case, professional remediation treatments are needed.
H&H Environmental Construction and Consulting provides residential and commercial mold testing and removal services for Connecticut, Massachusetts, New York, New Jersey and Pennsylvania.